Top Cleaver Knife Reviewed
A razor-sharp meat cleaver is necessary for the kitchen, because of its perfect performance on jobs like handling a whole chicken, chopping tough meat like duck, separating bones and joints, or removing a great beef steak.
A cleaver knife is a good investment in your collection if you need to handle large cuts of meat.
Of course, it's not easy to find a good cleaver knife in a wide range of choices. You don't want to spend five times more money on the cleaver which isn't five times better in quality.
You have to find a balance between a good rating and value for money. Don't worry, we did this part of the work for you. We find a list of the best cleaver knife on the market and provide some basic knowledge you should know when you want to find the right cleaver knife. Remember to let us know which cleaver knife you like best in the comment.
Key benefits of a good cleaver knife
The good cleaver knife can make quick work of tough cuts, let's see the key benefits of a good cleaver knife.
1. Keep other knife's sharpness
If you try to chop tough meat like a chicken with a chef knife, then you are only going to ruin your knife. Thus, use a cleaver knife to handle tough cuts can help keep your other blades sharper for longer.
2. Save time
A cleaver knife can cut down meaty chunks of goodness with less pressure, and you don't need to waste plenty of time trying to cut through slabs of meat without much success.
The meat cleaver knife is really shining when it does the job with meat, bone, and gristle. you can save lots of time to cut the food in the shape you want.
3. Make your table meal more glamorous
As we mentioned above, the cleaver knife can chop, cut, and slice meat and bones very well, thus, you can do any recipe you want, you can have more choice on the recipe to make your table dinner more glamorous.
4. Enjoy the pure cooking pleasure
Cooking should be a pleasure, not a harrowing ordeal that leaves you tired and sore. Owning a good cleaver knife can make arduous tasks so much easier and more simple.
Top 8 best cleaver knife 2021
This hand forged cleaver knife is made of high-carbon stainless steel, delivers 56-58 HRC. Includes vanadium, molybdenum and chromium elements for extra strength.
This hand forged cleaver knife use ebony solid wood, copper ring reinforcement, makes the handle ergonomic and comfortable to grip(no pressure on your thumb). What's more, polished procedure makes it not easy to deform and be non-slip. The full-tang design adds durability and balance.
The cleaver knife is good for chopping, cutting, deboning, dicing, and so on. Of course, it's just suitable for light and small bones.
Pros
Stylish appearance
Wider blade
Comfortable handle
Requires no effort to cut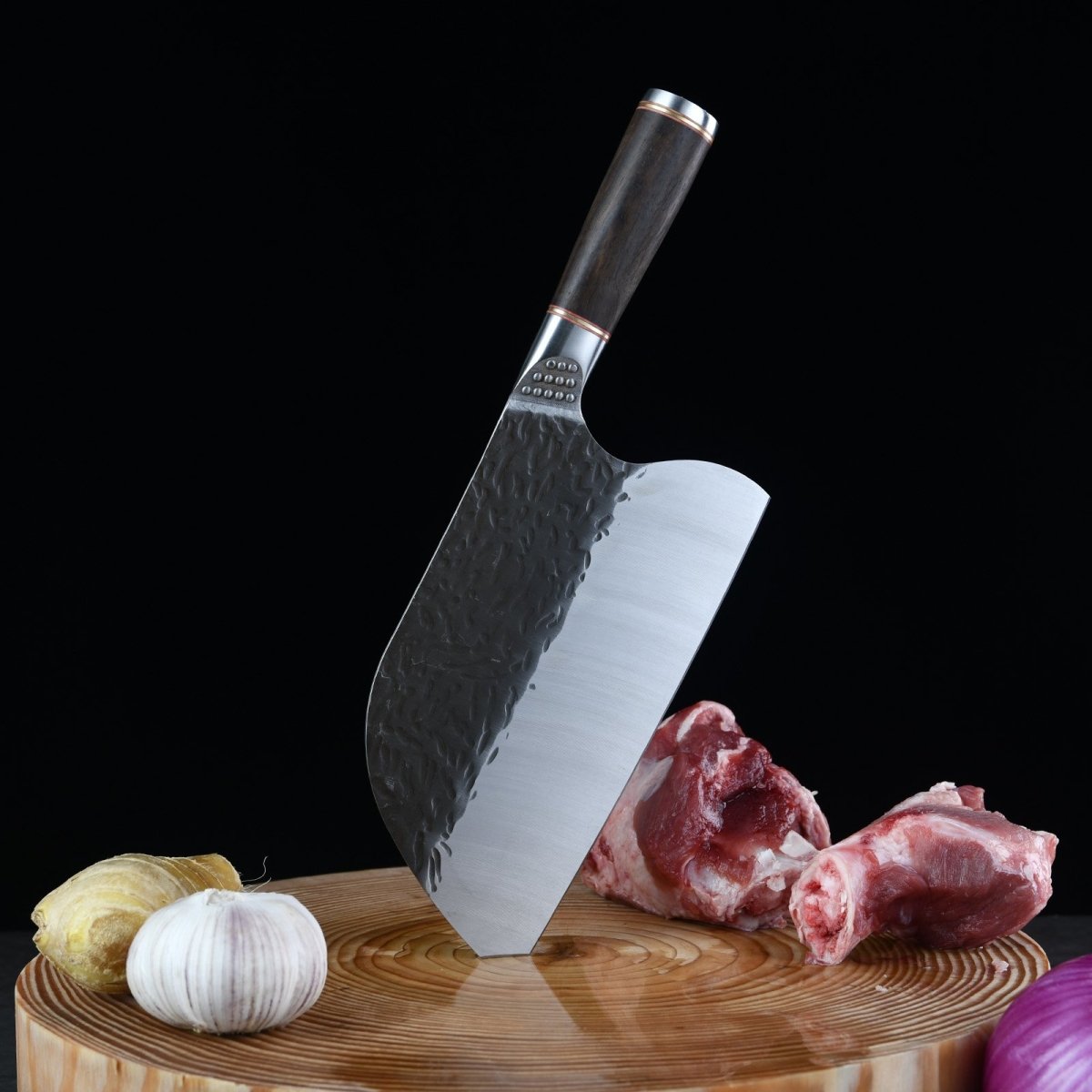 This Serbian Cleaver Knife looks similar to the first one, it is the upgrade version of the first cleaver knife.
It is specially designed for chopping larger bone.
Pros
Beautiful looking
Durable as it is made from premium stainless steel.
Super-sharp blade.
Offers versatility for large bones
Ergonomically designed for safe and comfortable use
Cons
The cleaver is heavier than other standard cleavers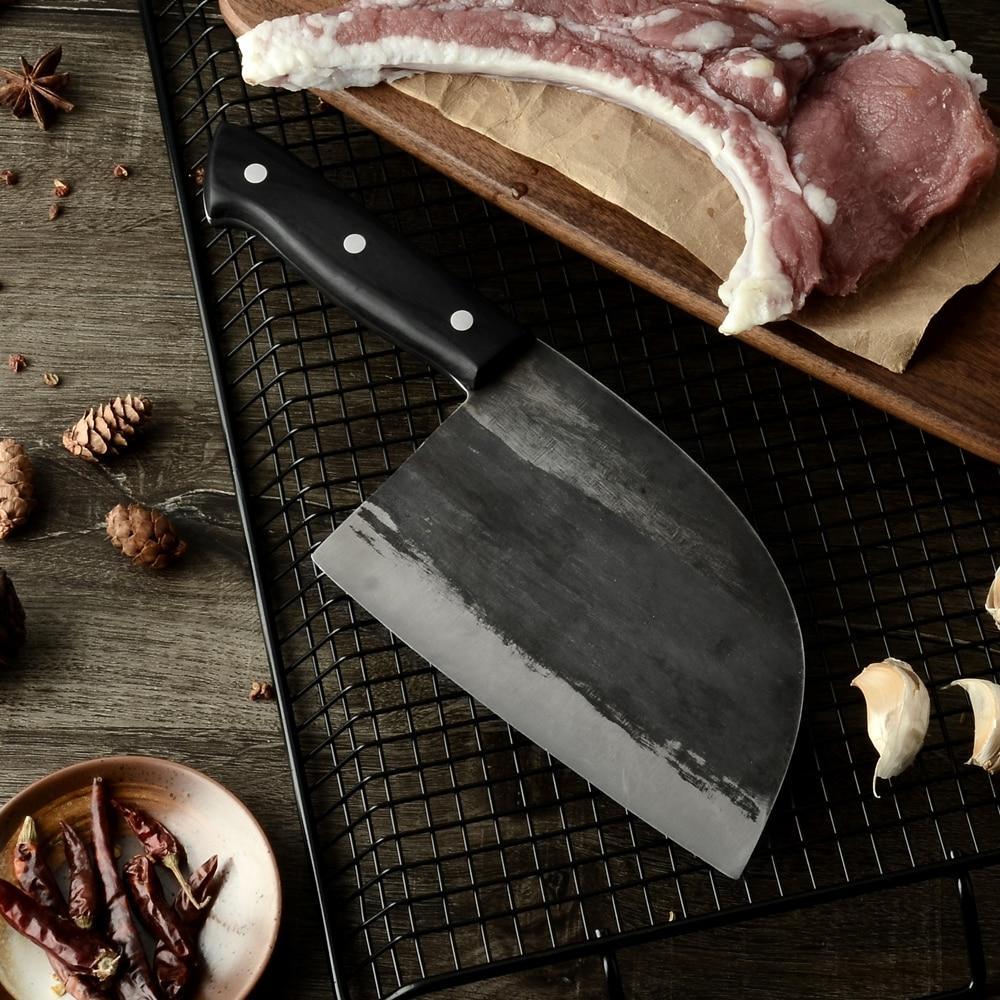 This is the most popular Serbian cleaver knife in 2020, can be used for any cutting whether it is vegetables, bread, meat, etc. It has perfect performance on cutting.
The knife handle and blade are integrated without soldering that makes it very durable. You don't need to worry about any handle-breaking issue.
What's more, this cleaver knife is built with manganese steel which makes the knife highly durable.
The edge is manually sharpened by experienced craftsmen, allows long edge retention.
You'll get a good feeling full tang handle to make sure the handle fits your hands well and stable. Furthermore, the full-tang design lets you get away from the handle-breaking problem.
This hand forged butcher knife comes with a leather sheath, which can cover and store the entire knife when not in use. It can avoid accidents effectively.
It is a medium-sized knife:
Length: 6.5-inches
Width:4.13-inches
Weight: 1.33 lb
Thickness: 5mm
What you need to notice is that carbon steel knives are prone to rust and corrode, so, please clean and dry it immediately after every use.
Pros
Traditional-fashioned
Multi-purpose for all vegetables, meat, and bread
Highly durable
Great grip
Long-lasting sharpness
Matches with a leather sheathe
Cons
You need to maintain it well, otherwise, it can get rusty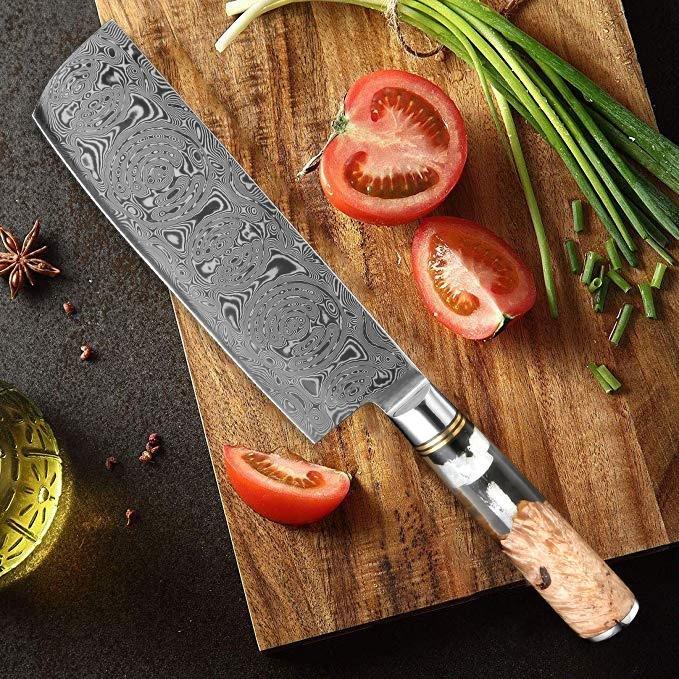 This Damascus meat cleaver is made from imported Swedish powder Damascus steel, smelted by powder metallurgy, which is better than Japanese VG10steel.
It is real Hermes in the kitchen knives. The knife is super tough and resistant to stain and corrosion while retaining a sharp edge even with frequent use.
The large rose-shaped pattern makes it attractive and special. I bet your guest will be impressed by this special quality knife.
The Damascus steel allows high sharpness and long edge retention, you don't need to sharpen it so often.
The handle is made of transparent resin and natural rosewood. The structure of the handle is clearly displayed, not only beautiful but also unique. The double copper ring adds durability and stability, makes it very comfortable to hold in the hand. this cleaver is lightweight makes it perfect for cooks who lack a bit of hand strength.
Pros
Made by superhigh quality powder Damascus steel
Perfect for home use and professional kitchens
Long-lasting sharpness
Elegant looking
Lightweight and exquisite
This hand-forged cleaver knife set delivers high value in visual. The blade material of this cleaver is high-carbon stainless steel. The knife-making technology is forged knives. the handle and the blade are integrated without soldering, which is firm and durable to reduce the risk of broken handles.
The handle material of the cleaver knife is Full Tang integrated steel shank plus wood plus rivet fixing. Ergonomic Full Tang handle allows the blade comfortably to grip and non-slip effect. The cleaver knife is a visually pleasing, impeccable performance this strong design with good strength, durability.
Pros
Visually elegant
High-Sharpness
Multi-functional
Cons
A little heavy for someone
The thick and sturdy blade of this cleaver knife is made of 5Cr15 carbon steel, according to V-shaped fine processing on the blade, allows long-lasting sharpness with incredible robustness and quality.
As you can see from the picture, the blade is designed with a hammered texture, which is great for prevent foods from sticking. The handle finished with the full tang pakkawood for well balanced for comfort when cutting.
The ergonomic handle design of the cleaver makes it easy to grip, and it can prevent the cleaver knife from breaking down or dropping. It is strong with good strength, durability.
This High-carbon stainless steel cleaver is a multifunction cutlery knife, suitable for cutting, dicing, slicing with vegetables, fruit, meat, and bones. It is a great addition to any kitchen.
Pros
Hand-forged
Hammered pattern
Retro sense
Razor-sharp
Cons
Not everyone like this rough look
You don't need to spend much money on a high-quality meat cleaver.
This Letcase Chinese meat cleaver knife comes at an affordable price, also it delivers a unique hammered pattern design and an incredibly sharp blade. Let's take a look:
This cleaver knife is crafted out of 7CR15MOV steel feature a hardness of 58 HRC. Even though it is not the hardest blade, but it is hard enough to handle bone, sinew, and even coconuts. what's more, it costs not so much.
The slightly curved design of the blade makes the cleaver more functional. It's also good for cutting vegetables, for example, you can slicing tomatoes in paper-thin slices easily with its sharp edge.
What really impressed us most is the hammered pattern on the blade, which makes it textured and an expensive feeling.
Pros
Cost-effective
Razor-sharp
Multifunctional
Unique design
A Rustic All-Around Cooking Tool. This hand-forged Serbian chef knife is perfect for chopping meat, vegetable, or deboning chicken or lamb ribs with surgical precision. People love it for its versatility. It is the best in the world for chefs.
This Serbian chef knife can be used for trimming brisket, boning a leg of lamb, separating ribs from pork loin, vegetables, and fruits, or breaking down a whole chicken. Even it looks small, it can handle tough meat cutting tasks.
The blade is made of high carbon 7CR17Mov steel, super durable & sharp, which makes it stand out on many occasions. For example, you can use it as a bbq knife at a home gathering party. of course, according to it is portable, even you want to picnic in camping activity, you can use it for food preparation too.
The Serbian chef knife comes with a leather sheath for safe storage.
Pros
The most versatile
Portable
Come with a leather sheath
Wide range of using
Special curved edge
Cons
Not everyone like the curved-edge design
Meat cleaver buying guide
When deciding the best cleaver knife to buy, you have to think about your real needs and look at product parameters to see which one will fit your needs best. Here are 5 factors you need to consider:
1. Blade Material
According to the cleaver knife needs to do some serious tough work, thus you need a blade that won't rust and won't shatter.
Carbon steel is a popular cleaver knife-making blade material that is strong and long-lasting but tends to rust, thus, carbon cleaver needs more maintenance, apply some edible oil such as olive oil on the blade can stop rust.
The better blade material for cleavers is high carbon stainless steel, a combination of stainless steel and carbon steel.
Get the high sharpness from carbon steel and get the resistance to corrosion and rust from stainless steel. And it is non-stick. Of course, if you want to keep it a long time, you'd better clean and dry the blade after use.
2. Blade Length
Cleaver knives are generally much larger and wider than any regular knife. There is a wide range of sizes available.
A longer blade will make it easier for you to cut larger food, but it will influence cutting accuracy. A shorter blade is good for a more precise cut, but, it will have the risk of getting stuck in chunks of meat.
The ideal length of a cleaver knife is 6 to 9 inches which is enough to handle the daily cooking tasks.
The final decision needs to consider what you want, if you are strong and usually working with a cleaver knife, you can choose a longer one. But, if not, a shorter cleaver knife could be a better choice.
3. Handle Material
Except for blade material, you can't neglect the handle material. The handle should fit your hands well for work.
The handle should be ergonomically designed and easy to grip and non-slip, thus, you can slice through pounds of meat without fatigue.
Generally, there are 4 choices for handle materials:
Stainless steel: It's durable but less beautiful.
Natural wood: It's elegant pleasing, what's more, the natural wood handle provides a more comfortable and grip-friendly feel, but, it is not dishwasher safe.
Pakkawood(a composite of wood and resin): It's durable and it's the most popular choice for the knife handle.
G10 handle: A military-grade material, premium quality. It usually matches the Damascus kitchen knife.
4. Weight
Generally, cleaver knife is heavier than any other regular knives.
A larger and heavier meat cleaver will easily cut through almost anything, at the same time, it is so heavy, it's easier and faster for you to feel tired, even feel pain on your arm.
In another hand, a lightweight cleaver may influence its ability to slice through tough ingredients, but it is better for precise cutting.
So, when buying a cleaver knife, ensure that it isn't too heavy for you, but also allows clean cuts in one swing with enough power.
5. Balance
A well-balanced cleaver knife can make it easy to hold and control every movement, thus let you finish food preparation in a more relaxing way.
Therefore, you need to find a cleaver that has a good weight distribution between blade and knife handle.
6. Full Tang
A good cleaver knife must be full-tang, the blade needs to extend the entire length of the handle to add durability and balance. And in this way, it is safer to handle such a tough task.
7. Versatility
Not every cleaver knife's function is the same, moreover, pro chefs usually own more than one meat cleaver.
If you just need to cut meat, a standard cleaver knife, which is lighter and smaller, could be a better choice for you.
But, if you want to chop through thicker bones, a professional cleaver knife, which is larger and heavier is better for you.
So, when buying a meat cleaver knife, you need to know if it can cut thicker bones, usually, this one is heavier than a standard meat cleaver.
8. Blade Thickness
The ideal blade tends to be thicker from the cutting edge to the spine, the edge should be thinner for a cleaner cut through the meat.
A thin blade also illustrates that you don't need to push much much force to your meat or bone to slice through.
The history of cleaver knife
The history of cleaver dates back over a million years ago.
The first cleaver knife was invented by an ancient Chinese welder. The first cleaver was made from rocks and wood which is simple.
With the development of technology, better material steel is becoming a common blade material.
Even though the cleaver becomes more and more stylish in modern times, it keeps the same original function. Thus, We have to admire the wisdom of the ancients.
How to hold a cleaver knife correctly?
Knowing how to hold a cleaver is the most important step in efficiently cutting. Here is a good way to hold cleaver:
Grip the handle at the point where the blade meets the handle, place the thumb on one side, curl the rest of the fingers at the opposite side of the cleaver handle.
In this way, you can control the cleaver well.
FAQ about cleaver knife
1. Can I put a cleaver knife in the dishwasher?
It depends on where you bought the knives, some of them can do like this. But, even it can but it not means you should.
Hand-wash is the best way to extend the lifespan of a kitchen knife.
2. Why some cleaver has a hole in the blade?
As the list we mentioned above, you can see some cleaver has a hole on the blade, that's because you can hang the knife on the wall. In this way, you can save space in your kitchen.
3. Does any cleaver can cut bones?
No, not every cleaver can cut bones. Different size cleaver can be used in handling different tough tasks. Generally, the cleaver is no problem to cut small bones, but for large bones, you need to find the one that is special designed for cutting bone.
In conclusion
After the previous explanation, you know a lot about the cleaver knife. I hope you can use this knowledge and our pick list to find the cleaver knife that suits you. If you have other knowledge you want to know, remember to leave a message to us.