Top Damascus Chef Knives Reviewed
When you enter the keyword "best Damascus chef knife", you've heard Damascus steel kitchen knife, which is very popular now on the knife market.
What Damascus chef knife to the knife market is like what Gucci to the bag market. It's not hype, we have to admit that the Damascus chef knife is the sharpest kitchen knife. It is the good chef knife that the home cooks are always on the hunt for to help them with all food preparations for their families.
Of course, find the best Damascus chef knife is quite a challenge because there is a wide range of Damascus chef knives in the market.
Therefore, we made the difficult work to outline a list of the best Damascus chef knife. At the same time, we collect all the basic knowledge you need to know about Damascus chef knives, such as what is Damascus steel, the benefits of Damascus chef knife, Damascus chef knives buying guide, tips for maintaining Damascus steel knife, etc.
Hope you can make the right choice after you master the basic information related to the Damascus chef knife.
Our Pick of Best Damascus Chef Knife
If you like stylish or classy things in your daily life, you'll fall in love with this 8 inch Damascus chef knife because of its eye-catching blue knife handle and beautiful fishbone-shaped Damascus pattern.
Crafted out of premium Japanese VG-10 super steel, the 8″ Damascus chef knife features 60±2 Rockwell Hardness, allows silky cutting experience on fruits, meat, vegetables, sushi, and steak. What's more, the narrow blade design makes it better for fine cutting, for example, it is flexible enough to cut the turkey. You want an effortless and fun slicing experience on Thanks Giving day, right?
Going through an intensive nitrogen cooling technique and vacuum heat treatment, the knife was strengthened hardness and resilience, and resistance to corrosion, rust, and staining.
Compared with other chef knives, which always in the black knife handle, this Damascus chef knife handle is made from superior quality blue glass fiber G10 material, triple-riveted with a golden mosaic pin makes it stand out on the Damascus steel knives market.
Pros:
Elegant blue handle
Razor-sharp edge
Unique fishbone-shaped Damascus pattern
Gift-box and sheath available
Narrower blade for precision cut
Cons:
Not everyone like narrow blade chef knife2.
The durability and affordable property of Letcase 8″ handmade Damascus chef knife attracted many people's attention. Once you used the Damascus chef knife, you can find the difference and you'll love the perfect balance and high-sharpness of Damascus steel knives.
Great weight distribution between the knife blade and handle minimizes effort while chopping, dicing, and slicing items.
Built by Japanese VG10 steel for high sharpness and durability, so, you can cut soft or hard items easily with little pressure. 16-18 degrees cutting edge, the edge is super sharp, extraordinary performance, and perfect grain.
Folded with 33 layers of soft steel on each side for keeping the edge sharp for a long time, thus you don't need to sharpen the edge frequently.
The 16-degree blade edge of this knife makes cutting meat, chicken, steak, sushi, etc feel like slicing butter. What's more, you can remove meat from bones easily, but, remember not to cut bones directly with the knife blade.
In addition, it's comfortable to hold the knife in the hand, which is made of G10 material and ergonomically designed.
You know, a balanced knife can reduce wrist tension after a long time of use.
The most attractive is that this Damascus chef knife didn't sell in so much expensive, we've known that this is the best seller of Letcase's Damascus series, in order to keep its sales in their promotion periods, they didn't increase the price.
Pros:
Military-grade G10 handle offers great grip feeling
High-quality with affordable price
Raindrop-shaped Damascus pattern resists stains, corrosion, and discoloration
Retains sharpness for a long time
Cons:
Double-bevelled at 16-18 degrees, not everyone like this degree
Handmade Damascus kitchen knives are made of a forging process. Damascus steel hammered by high-temperature quenching makes the blade more durable and sharper.

The Damascus pattern on the blade is clear, Touching by hand is like carving on the surface, very elegant and beautiful, give you a distinguished experience.

The knife handle is definitely a luxury high-end handle you've ever seen.
As you can see from the picture, the knife handle uses a variety of materials, through a number of cumbersome procedures to further upgrade the material of the wood, so that the wooden handle greatly increases the moisture-proof effect, not easy to rot, can be stored for a long time. At the same time, makes the handle more special and attractive.
The color matching process is very important, and the natural sandalwood is specially treated to make the wood shinier. The collection value of the handle is also very high. The one-piece handle is comfortable to hold, luxurious, and extravagant while retaining an ergonomic design.
You will notice the Notch-design where the blade meets the handle, in this way, it will maximum protect your fingers when cutting. Very thoughtful design, right?
Pros:
100% satisfaction on details
High-end steel for high sharpness and long edge retention
Exquisite handle
Santoku knife is a Japanese-version chef knife. This is definitely the luxury of Damascus chef's knife, just like LV's status in luxury. If you have enough budget, you can try this option, which will bring you a different experience.
This Damascus Santoku knife owns an eye-catching looking and expensive feeling. Forged in 67 layers of steel to form narcissus Damascus pattern, integrated with a twisted octagonal G10 handle, The Damascus Santoku knife is stand out.
No-Curl, No Rust, Non-Stick, and Long Edge Retention: Crafted out of Japanese high-carbon AUS-10 steel, it is alternately arranged with 67 layers of SUS410 inlaid metal to improve durability to keep its edge as you put it to work in the kitchen for years to come. This Damascus Santoku knife is liquid nitrogen tempered ensuring long-lasting performance on stain & rust-resistant. With proper maintenance, you don't need to sharpen the Damascus Santoku knife often.
Super-Sharp for Effortless Cutting: The ultra-sharp AUS-10V Japanese super steel allows 62+ Rockwell hardness. The Damascus Santoku knife is double-beveled at an angle of 12° (each side) for maximum sharpness. Easy for cutting meat, fish, sushi, vegetable, fruit, and more. A smart choice for home and kitchen.
Classic Black G10 Handle with Twisted Octagonal Shape: Made by G10 composite material, strong durable, and resists moisture, carefully polished for comfort and elegance. The full-tang design ensures a well-balanced feeling.
Pros:
Made by superior Japanese AUS-10 Steel
Narricus-shaped Damascus pattern
Twisted octagonal G10 handle
Razor-sharp
The biggest difference between this Damascus kitchen knife and other knives is its unique and random color. The handle is made from resin and stable wood, the resin will be combined with different color dyes, no one can predict what kind of color would be after it finishes. Thus, each epoxy resin wood handle is different in its color. It's like you received a blind box, don't know what it is, there will be a kind of expectation. It won't let you disappointed.
Except for color, This 8′ chef knife is good in other aspects.
One-piece molding ensures no break when cutting. Each side of the blade is beveled at 8-12 degrees, makes it super-sharp for handling any task in the kitchen, like cutting or slicing meat and vegetables.
The Damascus kitchen knife have a strong durable bolster for perfect stability and control, which minimizes fatigue when you use it for a long time.
Pros:
Unique knife handle
Come with a gift box
Special design to protect your fingers when cutting
Affordable
Cons:
You can't point the color you want in advance
This is another high-end chef's knife crafted in the tradition of Japanese knives.
The blade is hand finished by experienced craftsmen, the edge is polished at 8-12º per side to meet a variety of cutting tasks.
The traditional 3-step Honbazuk method has been used in forged process, stacked 67 layers of steel to hammered in one blade, as a result, it forms some circular wave patterns on the knife blade and each pattern maybe a little different.
The razor-sharp forged Damascus knife comes with a polished wooden handle, solidified wood has strong toughness, never rot, it can be stored forever. It is completely moisture-proof, does not shrink, and does not cause cracking.
Fine sanded handle can protect it from external elements like dust, water, etc.
The blade and the handle are seamlessly welded, the handle is comfortable and durable, and the blade is very sharp, making it easy to complete every task in the kitchen.
Pros:
High-carbon stainless steel core(AUS-10) with 67 layers of steel
Safe finger guard design to make sure safety while cooking
8-12 degree cutting edge for exceptional sharpness
Forged Japanese knife
Rounded Blue knife handle
This Damascus chef Knife with blue resin handle is another budget-friendly choice. If you don't want to invest much money in Damascus knife, you can choose from this one, which costs less than $100.
It is a professional Japanese knife blending exceptional craftmanship and awe-inspiring design. A hand-polished spine is good for balance and comfortable grip when you push pressure on the knife.
The core is high carbon stainless steel VG10 steel(HRC 60±2), ensures a tough and sharp cutting edge, allows fast speeding cutting in your kitchen.
The blue resin handle with bolster allows firm and robust hold of the blade. Full-tang design adds durability and balance.
The chef knife is highly resistant, you don't need to worry about rust stain on the blade. Of course, you should avoid placing the knife in a moisture environment for a long time.
Pros:
Razor-sharp
Full-tang
Resin blue handle
Non-stick
Affordable
Cons:
It looks not so beautiful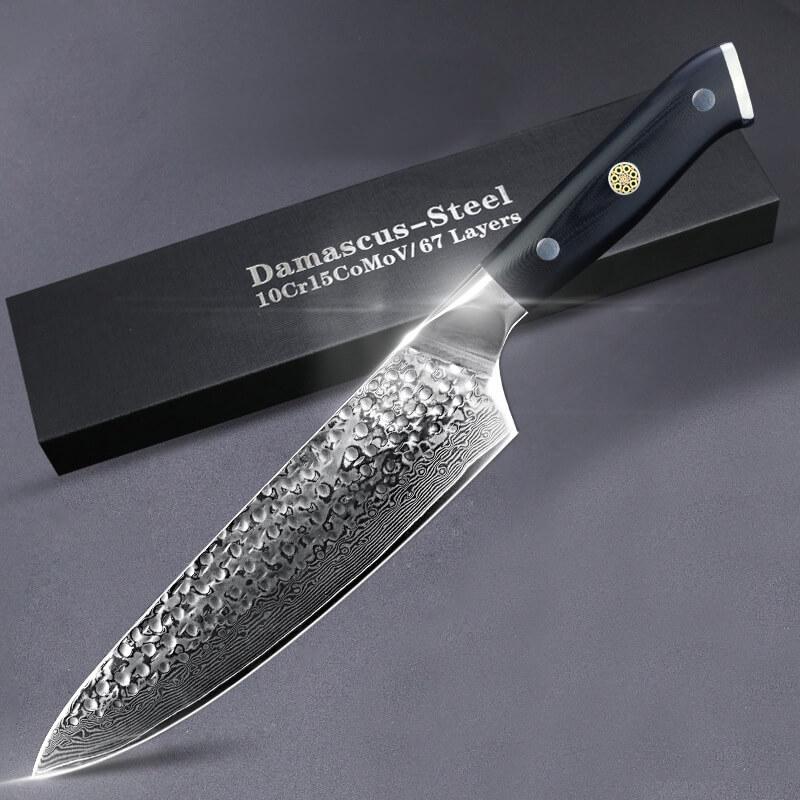 This 67 Layer Damascus Steel Chef Knife uses high technology to get the most durability.
VG10 core is still excellent. V-grind edge with an optimized 7-13 °edge,super-sharp.
45° Spine polishing makes it perfect for precise cutting.
The laminated wavy pattern on the blade looks aesthetically elegant, what's more, if you touch it, you can feel some bumpy feeling. It is the proof of forged and folded process.
The full-tang handle is a G10 handle, one of high-quality fiberglass, connected with three rivets to ensure a balanced design. It will fit your hands well.
Pros:
60±2 HRC
Suitable for cutting any items
Well balanced and flexible
The thickened spine
Superior edge retention
Comes with a gift box
Require less sharpening
Cons:
Avoid dishwasher
Needs proper care
If you like autumn very much, then this handle with maple leaves is your best choice. In this way, you can take the fall home.
Compared with other Damascus chef knives. The uniqueness of this knife is the handle, which combines resin and maple leaf makes it stand out.
Pros:
Made by 67 layers VG-10 steel
Triple riveted handle
12-degree double bevel sharp blade
Unique handle
Cons:
A little heavy for some people
It's a pricey knife
If you like jade-related jewelry, then this Damascus Kiritsuke Knife is a good choice. The crystal clear color is the same as agate, which can instantly make you feel better. This is definitely a good addition to any kitchen.
This chef knife is a versatile knife, which can be used for many cooking tasks such as chopping vegetables and fruits or slicing meat. There's a good balance to it from blade to the handle.
The high-quality steel can be sharp while retaining the edge for a long time. So, you don't need to resharpen the knife frequently anymore.
Look at the knife handle carefully, you'll find the shape of the handle is octagonal, which can offer comfort when you hold it. The resin wood handle makes it more attractive.
Pros:
A good balance between rigidness and elasticity
Effortless cutting
Comfortable grip
Visually elegance
Cons:
Some people will think the knife is lightweight
Handle may seem flimsy
Here we finish sharing the list of the best knives we have selected, of course, you'd better know how these lists are derived. You also need to know some relevant knowledge about Damascus chef knives. We will share more information next. Hope it can help you.
Benefits of Damascus Chef Knives
As we said earlier, Damascus chef's knife is better than other ordinary chef's knives. Next, let's take a look at the advantages of Damascus chef's knife.
1. Longer lifespan
Damascus steel is one of high-quality steel, which is built to last. Going through the heat treatment process, the Damascus knives have enhanced the hardness, resilience, and strength of the blades. In this way, the blade can withstand the influence of daily use, it won't wear and tear the blade.
So, if you care about your Damascus kitchen knife properly, it can last for a lifetime.
2. Long edge retention
Wrapped with 33 layers of soft steel on each side, the Damascus knives don't need frequent sharpening to work well and can hold their edge longer. With appropriate care, it can last 3-5 years. Thus, the Damascus chef knife is nice for cooking beginners because they don't know sharpening skills.
Of course, if you use a knife frequently and long time, it would need some care and attention from you.
3. Sharpest chef knife
Damascus steel features high sharpness, the hardness can reach up to 62, allows silky cutting on food ingredients. Due to its long length and wide blade, the Damascus chef knife is also good for slice vegetables and a whole turkey.
4. Aesthetically pleasing
Many people love Damascus kitchen knives because of their Damascus pattern. Each pattern is unique and formed in a meticulous forging process.
5. A good collection
Damascus chef knife can add taste and uniqueness to your knife collection. It's a good investment in your life.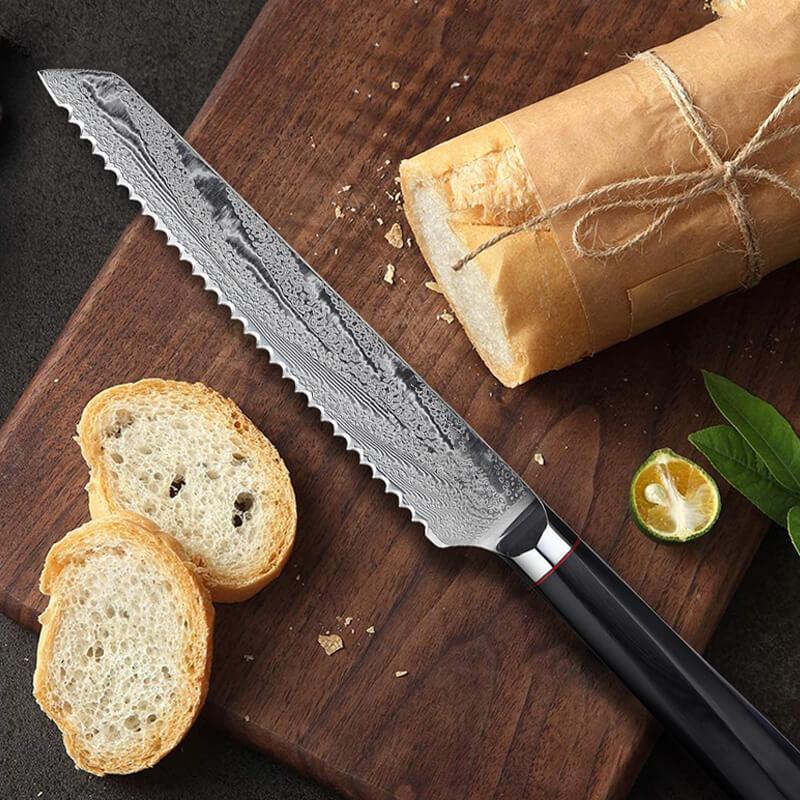 Damascus Chef Knives Buying Guide
We will list down some important factors for you to check while you are looking for the right Damascus chef knife.
1. The steel type
Most people think Damascus steel is a type of steel, actually, it is the process of making the steel. All Damascus knife features folded steel, so the steel should be strong, durable and stable.
The best type of steel to make knives are Japanese steel: VG10, AUS-10, SG2, etc.
2. Handle
Knife handles are essential for a good knife, it has an important impact on the knife's overall performance and appearance.
There are some common handle materials that match with Damascus chef knife:
2.1. G10 handle
G10 fiberglass is military-grade material, which is incredibly durable.
2.2. Micarta
Micarta offers similar advantages to G10.
2.3. Natural Wood handle
The natural wood handle is beautiful but is easier to be corrosion or discolored.
2.4. Stabilied wood handle
Stabilized wood handle always work with resin wood handle, makes the knife more durable and beautiful
if you want to know more about knife handles, check at What is the best kitchen knife handle material?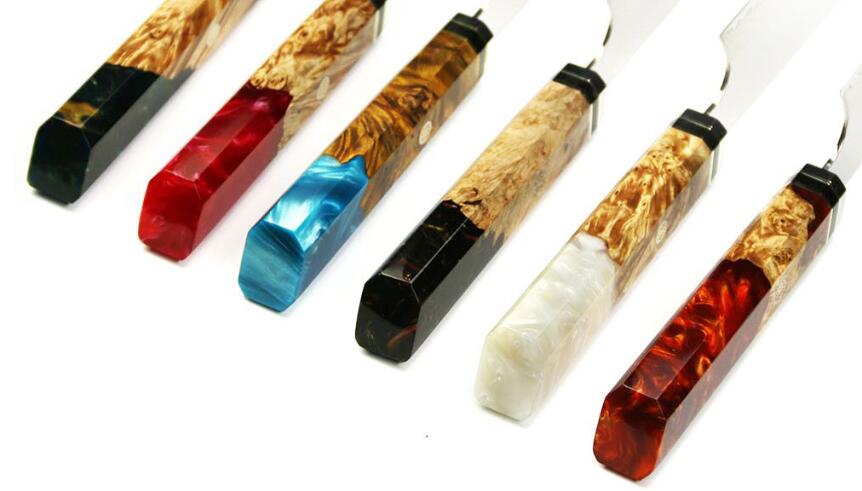 3. Number of layers
Generally, the Damascus chef knife is made of 37 layers,67 layers, or 73 layers of steel. The more layers, the higher the process requirements.
4. Balance
A well-balanced chef knife is another important factor that you need to consider. balance allows easy control of your knife.
5. Budget
The Damascus kitchen knife is not cheap, the price ranges from one brand to the other.so, choose the one that has high-quality but an affordable price.
If you want to know how are Damascus knives made? you can check this article: How are damascus knives made?
Conclusion
Blending tradition and contemporary design in knives too beautiful to keep hidden.
In the process to find the best chef knife, we learned that Damascus steel knife is not only visually pleasing, but aslo offers excellent cutting performance. It is a good choice for your kitchen.
Hope you learned basic info about the Damascus chef knife and find the right Damascus blade at last.