The Best Nakiri Knife
Nakiri knife is the best blade you need, if you like to make a salad, prepare Nori rolls, Katsuramuki vegies sheets, and want to own a knife to make pristine cuts on every vegetable in splits seconds to paper-thin slice.
You may be confused about the difference between Nakiri, Santoku, and Usuba knives. We'll clear your question later.
The Nakiri knife has an unparalleled level of precision cutting of vegetables, is specially designed for cutting vegetables. We'll offer some suggestions for you to find the best Nakiri knife you want.
What Is a Nakiri Knife?
So, what exactly is a Nakiri knife? In Japanese, "Na" means 'leaf', "Kiri " means"cutting", thus, Nakiri is a knife that cut leaf(vegetables), also called also known as a Nakiri Bocho and vegetable knife. The most conspicuous feature is its wide rectangular-shaped, thin, flat blade and squared-off tips. Moreover, you can use any knife cutting techniques to use Nakiri knife don't limit to use a horizontal push or pull.
What Is the Nakiri Knife Used For?
As we mentioned above, a Nakiri knife is mainly used for slicing, chopping, and mincing vegetables with precision and speed, especially perfect for getting the thinnest slices and cubes.
Except for it, its wider blade is capable of transferring foods from the chopping board to a cooking pot.
In addition, its thin and large blade is also good for handling meat, hard items such as carrots, cucumber, and fruits.
If you always work with vegetables in the kitchen, we highly recommend you own one Nakiri knife to save effort and time.
Benefit of Using a Nakiri Knife
Some home cooks may wonder why I need a Nakiri knife while I can handle cutting tasks with a chef knife. I think that's because you didn't try Nakiri in cutting veggies, once you tried, you can know how exciting it is to use a Nakiri.
1. More Uniform Thinness Cut
The edge of Nakiri is flatter, makes it possible to cut vegetables in a straight motion instead of pull or push to get even paper-thin slices. If you like making a salad, or you are a vegan, Nakiri is good for you.
2. More Stronger
Thanks to its wider blade make it stronger when cutting even tricky items such as turnips.
3. Non-stick
Due to its hollow edge of the blade, the blade can release off vegetable and fruit pieces quickly.
4. A Good Balance Between Weight and Precision
Even though the blade is wide, but it is thin enough for accurate cuts. In reverse, it is lightweight and well-balanced to hold and control, thus, you won't feel fatigued to the wrist when you do lots of salads and vegetable strips.
5. Require Less Sharpening and Easy To Sharpen
Generally, the Nakiri knife has good edge retention and hence you do not have to resharpen them after every few uses. Even if it becomes dull, it is easy to sharpen by hand at home.
6. Keep Vegetables Delicate
7″ Blade is a perfect length, plus a large blade can keep the vegetables in the shape you want rather than damaging or squishing them.
How to Choose a Good Nakiri Knife?
Like other kitchen knives, you need to think about the blade material, handle material, sharpness, balance, comfort, budget, size, and other factors.
As far as Nakiri are concerned, a 7-inch Nakiri is the most common choice. In addition, it is important to pay attention to the factor of balance. Because the blade is relatively wide, the full tang handle helps the overall balance of the knife and obtain a good grip, which will help you improve the efficiency of processing vegetables and the appearance of dishes.
Best Nakiri knife Reviewed
This Damascus Nakiri knife is made of 67 layers of Japanese Damascus steel, combines the best of a razor-sharp blade with good edge retention.
The triple-riveted handle is made of G10 material, one of the synthetic materials that resist fading, wearing, and discoloration. Integrated with a golden mosaic pin makes the knife looks more beautiful. In addition, it feels natural in the hand as well.
The full tang handle adds durability and weight to the handle, helps get the balance, allows the blade to effortlessly move through onions and herbs.
Pros
Value for the money
VG10 steel for high sharpness and good edge retention
Comfortable to grip
Triple-riveted mosaic min
Affordable price
This 7″ Nariki knife gained a good reputation with its charming look and high-tech feature. It is a good kitchen knife for women due to its lightweight and attractive appearance.
With a thin, short, sharp blade, the Damascus Nakiri delivers high sharpness, optimum edge retention, resistance to corrosion and rust.
The handle is made of transparent resin and natural color wood, which adds an interesting and visually pleasing factor.
At the same time, it helps a lightweight body makes it suitable for women to use, and removes fatigue to happen.
This knife has owned many hearts of the women cook lovers by its charming looking.
Pros
Comes up with a 7-inch high-carbon stainless steel blade
Accurate edge retention and balance capability
Non-rust
Great working ability
Easy to lift up with lightweight body
Nice combination of epoxy resin and natural wood
Ergonomic fresh handle
Being part of Letcase's high-end line, the 7" Japanese Nakiri knife could be a good partner for both amateur and professional chefs.
Why this Nakiri knife is so outstanding? Because you can feel the unique design in any details of the knife. For example, the Damascus pattern on the blade is a unique Narricus pattern that stands out from other Damascus steel knives on the market. Let's focus on the shape of the handle, do you notice the difference? It is a twisted octagonal-shaped handle which is also different from any other kitchen knife. What's more, it is comfortable to hold in the hand. Next, let's see the bolster of the knife, here's a very small curve design that can protect your finger when cutting. You see, any details can withstand research.
The 7" Japanese Nakiri knife features an AUS-10 super steel core, super sharp. The added Vanadium gives edge better impact resistance and cutting performance, while more cobalt improved strength and durability. The Japanese AUS-10 steel core is clad with 33 layers of stainless steel on each side to protect it and retain edge retention longer. Going through the forged process, these layered steel form a unique Damascus pattern to offer beautify and prevents food from sticking to the blade.
The twisted G10 handle feels like an extension to your arm is durable to use and resistant to moisture and wear.
If you have enough budget, you can try this unique Nakiri to impress your guests.
Pros
AUS-100 steel core with 66 layers of stainless steel covered
Unique Narcissus Damascus pattern
Perfect edge-retention
Comfortable twisted handle that's also moisture resistant
Hand-forged knife
The hardness of 62 HRC
Follows traditional 3 step Honbazuke procedure
How to Sharpen Nakiri Knife?
When the Nakiri becomes a little blunt, you can sharpen the blade slightly to restore its original sharpness. Like other kitchen knives, you can use a sharpener or a whetstone for sharpening. For specific sharpening methods, refer to these two articles: How to sharpen knives with whetstone and How to sharpen a knife with sharpener.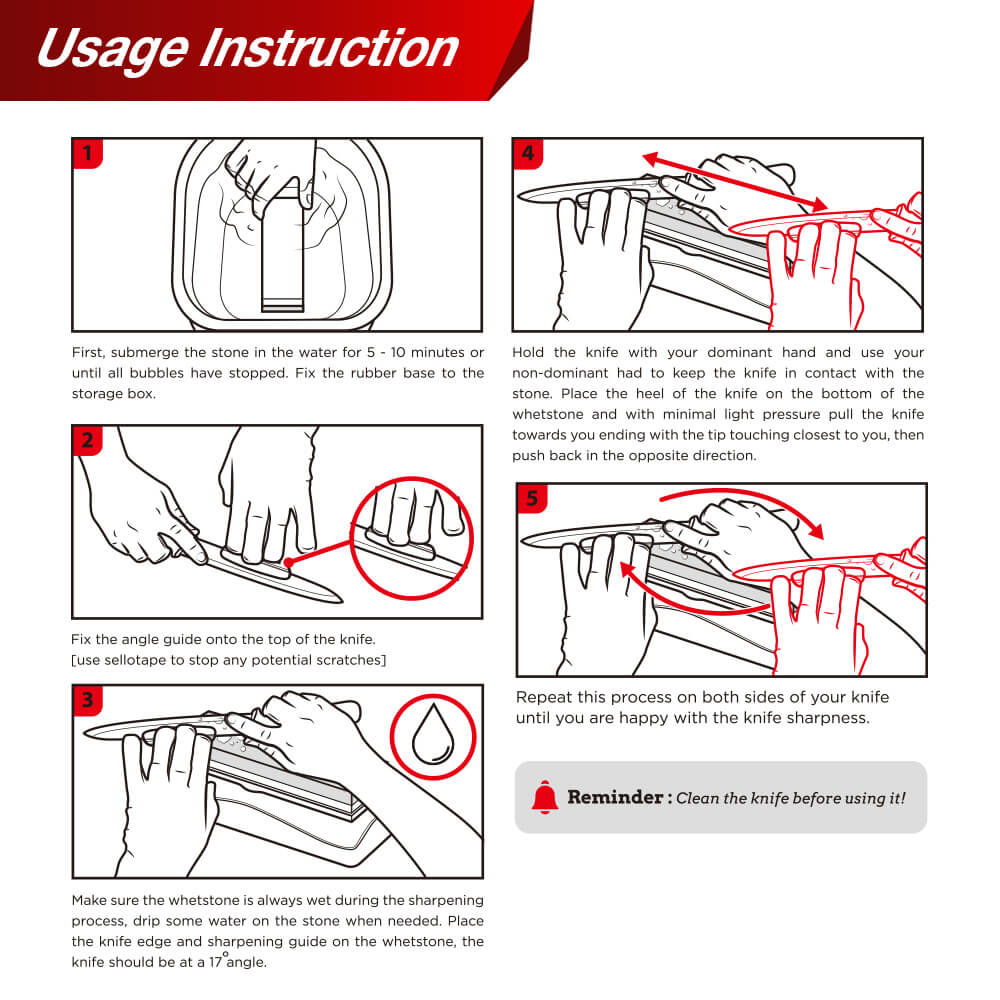 FAQ's About the Nakiri Knife
1. Why you should own one Nakiri knife in your kitchen?
Due to its wider blade, it won't make any injury to vegetables, thus keep the foods in good beautiful shape, and make your dish more appealing. So, it's a good choice to have one Nakiri, especially for vegetarians.
2. Why Nakiri knife so expensive?
As you know, the blade of Nakiri is wider than other kitchen knives, so it needs more steel to make it, thus it cost more.
3. Nakiri Knife VS Santoku Knife
Santoku knife is characterized by point and a flatter blade, it is one type of multi-use chef knife, suitable for slicing, dicing, chopping, and also cutting meats. Pull cut and push cut are commonly used knife techniques.
As we mentioned above, Nakiri always comes with a large, rectangular-shaped blade that makes it most useful for chopping vegetables. you can use any knife techniques to control it. It is a safer option for your kitchen because it doesn't have an obvious pointed tip.
4. Nakiri Knife VS Usuba Knife
Although, Usuba Knife is similar to Nakiri in looking. they are different in the bevel of the blade.
Usuba Knife always has a single-bevel blade with a thicker spine, used in professional kitchens only at an expensive price. It is designed for cutting extremely precise and thin slices of vegetables.
While Nakiri is the double-beveled blade, is useful for most people, even you are a cooking starter.
Conclusion
Nakiri knife becomes more and more popular recently and many home cooks can't stand without one. Hope you can find the right Nakiri knife in your kitchen after reading this page.