Best Santoku Knives Quick List
If you're a cooking enthusiast, you may know the value of having one santoku knife. If you don't cook often and ask me for advice on what kitchen knives to buy for your kitchen, I will say: Invest in a few primary knives rather than a complete knife set because you have little chance to use all of the knives. The Santoku knife is one of the primary kitchen knives you can put on your registry.
Get to know more info about Santoku knives will help you to find the best Santoku knives that will serve you best. Let's see what you need to figure out.
What Exactly is a Santoku Knife?
A Santoku knife was originated in Japan, dates to the mid-40s at the end of World War II,and become more and more popular in the USA. It is a smaller, lighter, more home-cook-friendly knife, improved from Japanese traditional Nakiri.
Santoku stands for "three uses" or "three virtues", which represents the knife's ability to slice, dice, and chop.
Compared with Western knives, the Santoku blade has a flatter cutting edge and a rounded curve at the end of the blade, similar to a sheep's foot. Finally, you may notice that there are some dimples or Cullens on each side of the blade, to stop food from sticking to the blade.
What is a Santoku Knife Used for?
The same as a chef's knife, Santoku is also a versatile knife, suitable for chopping everything in the kitchen. Use it in vegetables, fish, or fruits, you can find its unparalleled precision, especially when you cut thin precise slices. What's more, it is lighter and smaller to reduce fatigue.
Thanks to its wide blade, it can easily transport food ingredients from the chopping board to the other container.
Specifically,it is well used for:
Slicing cheese
Slicing, chopping, or dicing fruits, vegetables, meat, and nuts
Mincing meat or herbs
Removing food from cutting board to pot
Cut fine slices of vegetables and seafood
Santoku Knife Buying Guide
1.Blade Thickness
As we mentioned above, the blade of Santoku is thinner than the chef's knife for a precise cut. When you want to make a sandwich with thin slices of onions and paper-thin slices of meat, a thin blade is what you need rather than a thick blade.
2. Cutting Angle
Though Santoku doesn't have a pointed tip, A sharp cutting edge is also important when working. The cutting edge ranges from 15 and 20 degrees is good, of course, less than 15 degrees will be the best, Notice that, Don't get one which's edge is more than 20 degrees.
3. Strength
You can use Santoku up and down repetition for cutting, thus, a strong blade is essential.
High-carbon steel or high-carbon stainless steel Santoku knives are stronger due to their high content of carbon for extra strength. If you choose stainless steel blade, you'd better choose a forged one rather than a stamped one. As we all know, the forged process will make any type of steel stronger.
Furthermore, the blade and the handle should be firmly attached to avoid breaking. A full-tang blade can help improve this situation, of course, if the knife handle is triple-riveted will be better.
4. Quality
How good are the blade and handle materials? How well-made was the knife-making technology? These you need to consider.
5. Balance
The Santoku should be lightweight to allow slide back and forth or chop up and down, the well-balanced knife can ensure great grip in your hands.
Best Santoku Knives
This Japanese Damascus santoku knife is charming as well as functional. While a functional knife is your first priority, a stunning and charming knife displayed in your rack is visually pleasing.
Irregular Damascus pattern of this Santoku knife did this job well. Except for nice looking, it aslo delivers a full tang, and good weight for strength. Made from 67-layers Japanese VG10 steel, the sharp edge makes cutting so easy. Going through tempered in liquid nitrogen for long-lasting performance, thus ,it can hold the sharp edge long time.
It has hollow ground on the side of the blade to prevent food from sticking to the blade.
The knife handle is made from G10, one of premium materials, triple-riveted for strength and stability. A golden mosaic pin is aslo a outstanding decorative. The most important, it offers comfortable grip and control in the hands due to its ergonomically designed shape.
When it comes to price, this Santoku knife cost under $100 but offer perfect performance. It definitely value for the money.
Finally, it comes with a beautiful gift box, makes it a lovely gift for any cook you know. If you are looking for a high-quality santoku knife, this Letcase Santoku knife is the best choice.
Pros
A functional knife in daily kitchen
Includes a finger guard for safety
Made from VG10 for good quality
Beautiful G10 handle and comfortable hand feeling
More affordable price
Non-rust and require less sharpening
8-12 cutting edge
Cons
Some people may not like its lightweight feature
This 7-inch Japanese santoku knife is budget-friendly. The blade is made of high-quality stainless steel, using a Japanese "V-shaped" edged way with a 9-11 degree angle. The blade has a Granton edge which prevents food from sticking to the blade by creating air pockets. In another hand, it requires frequent sharpening to keep its edge sharp.
The handle is made from color wood, sanded and polished for non-slip and grip comfort, allow effortlessly cutting. Remember not to soak it in the water for a long time to avoid fading.
Pros
Classic Santoku looking
The dark wooden handle is sleek and comfortable
Low price
Cons
Needs more frequent sharpening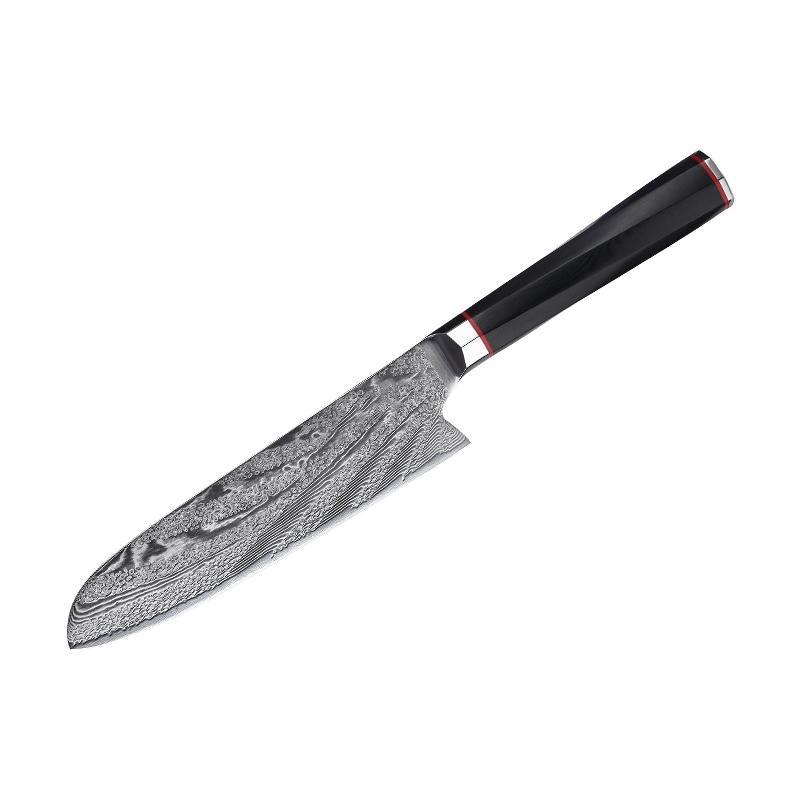 This Damascus Santoku Knife is characterized as an amazingly agile, light, and functional knife with an ultra-thin blade. This is the sharpest Santoku knife we tested. The scalpel-like edge is hand finished at an 8-12 degree angle on each side, a very good cutting edge the knives should have.
Done by the traditional way, cooled by nitrogen, after this, its hardness, flexibility, and rust resistance have been enhanced.
The cutting core is the ultra-sharp AUS-10 Japanese super steel, which delivers 62+ Rockwell hardness and keeps a good balance between edge retention and sharp performance
The Narricus Damascus pattern is another attractive point of this knife, makes the knife more unique from others.
The knife handle is made of military-grade materials -G10-which is commonly used in airplanes. So, don't doubt its quality, it is resistant to heat, moisture, and cold makes it safe to use in the daily kitchen. It is ergonomically designed in a twisted octagonal shape that facilitates a comfortable grip and gives you Sufficient control while handling the knife. At the same time, it adds a unique factor.
Pros
Rust-resistant
Easy to clean
Hold edge long time
Razor-sharp
Unique looking in both Damascus pattern and twisted handle
Sleek and stylish design
This Santoku chef knife made from the finest Damascus steel materials, an ultra-sharp 73 layers AUS-10 Damascus steel cutting core at 62+ Rockwell hardness ensures extraordinary performance and edge retention.
Finished to a mirror polish of within a 12° angle per side using the traditional 3-step Honbazuke method, this blade is very sharp.
This Damascus Santoku knife uses a ultra-premium blue wood handle, minimizes wrist tension while providing a secure, comfortable grip no matter your hand size or where you grip.
This 7-inch Santoku knife is designed specifically for straight cutting tasks such as chopping, mincing, dicing, and slicing.
Pros
73 Layers AUS-10 Damascus steel
62+ Rockwell hardness
Ergonomic blue handle
Beautifully engraved
Rust-resistant
The perfect gift
Cons
Never put knives in the dishwasher
Frequently Asked Questions About Santoku Knives
What is the best size for a Santoku knife?
The blade length mostly depends on the size of the food to be cut. The size of the Santoku knife is shorter than the Chef's knife, ranging from 5 to 8 inches.
Generally speaking, A 7-inch Santoku knife is used as a chef's knife to cut a variety of foods while a 5-inch is better for smaller items.5 inches Santoku also called small santoku, usually appeared in the kitchen knife set.
What's the difference between Chef knife and Santoku knife?
Although Santoku and Chef Knives are both multi-function knives, there are some subtle differences, as follows:
1. Size is different
The standard santoku knife is 7 inches while the standard size of a typical Chef knife is 8 inches.
2. Appearances are different
As we mentioned above, the tip of two knife is different.
Chef knife features a pointed tip (also called a spear point)and a flat surface, while Santoku features a rounded tip (similar to sheep's foot).
3. Weight and blade thickness
Normally, the Santoku features a lighter body and a thinner blade than chef knife. Thus is if better for the people who has smaller hands or worry about heavy knives
4. Require different knife cutting techniques
The users often use chef knife in rock chop and cross chop method, while Santoku knives allows to chop in an up and down motion.
5. A little difference in feature
Even though they are both suitable for cutting meat, vegetables, fruits, Santoku knife specialized more on smaller, finer tasks such as make extremely paper-thin slices.
While chef knife is better to handle more complex cutting, especially those requiring rocking movements of the blade.
What is the benefit of a Santoku knife?
Due to Santoku's lightweight and rounded tip design, we can cut food in straight up and down chopping techniques not limited to rock back and forth, greatly improved cutting efficiency, and save much time for food prep.
Why do Santoku knives have dimples on the blade?
The dimples, also called a hollow edge, Granton edge, or Kullenschliff aims to reduce friction and help the blade release the food quickly off the blade.
Conclusion
Each knife has its own advantages, which one to choose from depends on your kitchen tasks. If you more like a fine thin slice in your dish, Santoku is better for delicate cuts. If you don't care how the food cut, a chef knife is enough.
Our top pick is Letcase Japanese Damascus Santoku Knife with VG10 steel and G10 handle due to its affordable price and outstanding performance.
Hey, please let me know which Santoku knives you choose at last.