If you are looking for the best Serbian chef knife, you came to the right place.
Are you tired of seeing similar knives in every kitchen? Want to find something to let your kitchen truly stand out? The unique Serbian chef knife could be your choice.
The Serbian chef knife has perfect performance on effective shopping, especially on tough foods like meats and carrots. It's heavy enough to qualify like a cleaver, but it's sharper for fine slicing.
Serbian chef knives are one of the best on the market, we've picked 5 Serbian chef knives to review about cool looks and high efficiency.
Our top picks:
Come here to learn more about it.
When it comes to Serbian chef knives, the key feature you can remember is their multi-purpose personality.
You will find this exists in this Letcase Serbian chef knife.
It is a hand-forged chef knife, the hammered pattern can prove this.
Except for cutting vegetables, you can use it for trimming brisket, deboning a whole chicken, skinning the legs of lamb, or removing out ribs from the pork loin.
The special design-curved edge on the tip of the blade, benefit for precision cutting, allow fine separation of meat and bone. Generally, this versatile chef knife is commonly used for household food prep and camping picnic prep.
This Serbian chef knife comes with a hole on the blade that allows maximum protection for your finger when you are cutting.
The HRC of the curved-edge tip is up to 58, which indicates that the blade has high durability and provides great edge retention. After the forged process, the blade becomes resists corrosion and scratches.
In order to keep the blade always stay sharp, you can refer to some sharpening tools for help. Don't need to worry about blade fade, it is durable enough.
The wooden handle with triple rivet adds durability and makes it well-balanced. the full-tang design makes it comfortable to grip and easy to control.
Finally, this Serbian chef knife comes with a stylish leather sheath, makes it not only beautiful but also safe to store.in addition, it is portable for camping picnic food preparation.
Pros:
Unique Curved-edge design
Kitchen knives with a hole for safety
Leather included
Portable
Multi-purpose
Cons:
Not everyone will like curved-edge design
This hand forged cleaver knife is the most modern style Serbian chef knife. It is made by old tradition way. Before it becomes a complete knife, it needs to go through many processes, such as quenching – hammer – tempering – clamping steel – Hammer -quenching – tempering, and other continuous cycle operations. The pattern on the blade was formed in these processes.
This hand forged cleaver knife was made of premium high-carbon steel, after repeated forging and folding process, allows razor-high hardness sharp blade. With it, you can cut ingredients like using a hot knife to go through hot butter.
The front 3/4 is used for slicing and shredding, and the back 1/4 is used for chopping chicken and duck and etc. it could be a chef knife and cleaver knife at the same time.
The radian curve design between the blade and handle can protect your finger from damage and can let the whole knife fit your hand better.
As you can see, the width of a blade of this meat cleaver is wider than other knives can help you transport food into the container easier.
The ebony solid wood handle with fashion steel head design makes it looks visually pleasing, and copper ring reinforcement makes it not easy to deform, non-slip.
Pros:
Modern style
Expensive feeling
Multi-function
Well-balanced
Cons:
A little heavy for some people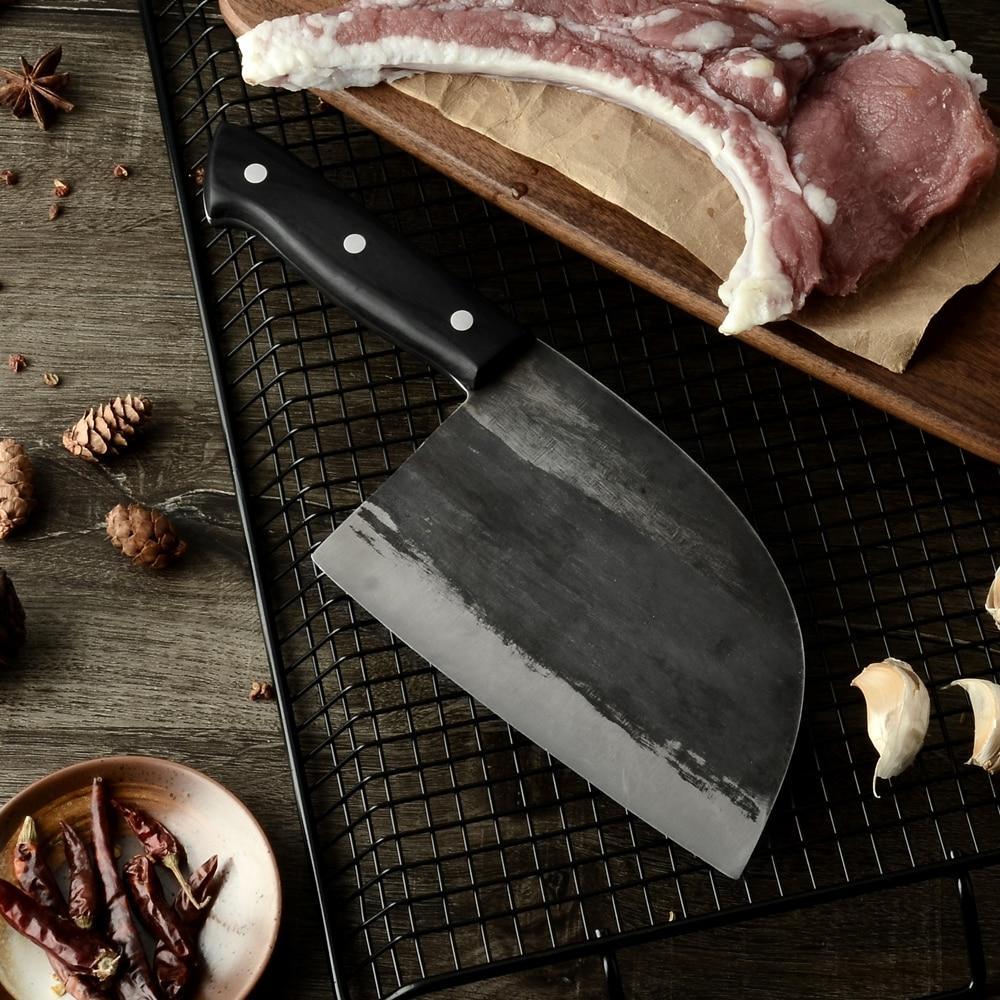 What do you think is the selling point of this tradition-fashioned Serbian chef knife? the razor-sharp knife blade?
The traditional rustic rust look? Or exquisite craftsmanship?
Yes, this hand forged butcher knife is visually elegant designed to shine in your kitchen.
The overall craftsmanship is great, especially its unique hammered finish and hand-forged structure. The rusty look of the blade shows that the knife is made of high-carbon steel, features an HRC of 57 allows an effective cutting.
The length, width, and thickness of the blade are respectively 17 cm, 10 cm, and 4mm. However, it weighs just 300g. Thus, it's lightweight for easy carrying.
The integrated steel shank extends to the whole handle, fixed with a wood handle and rivet to ensure perfect grip and balance.
The vintage wood handle also adds an old traditional feeling to it, when you hold it, Do you think of your grandmother who cooked for you? Use it as a chopper for vegetable cutting, Also, use it as a cleaver for a smooth cutting experience.
Finally, this butcher knife comes with a rustic leather sheat, which matches its vintage style.
Pros:
Light-weight for easy carrying
Portable
Eco-friendly
well-balanced
Traditional rustic style
Cons:
Not everyone will like the rusty appearance
Medium price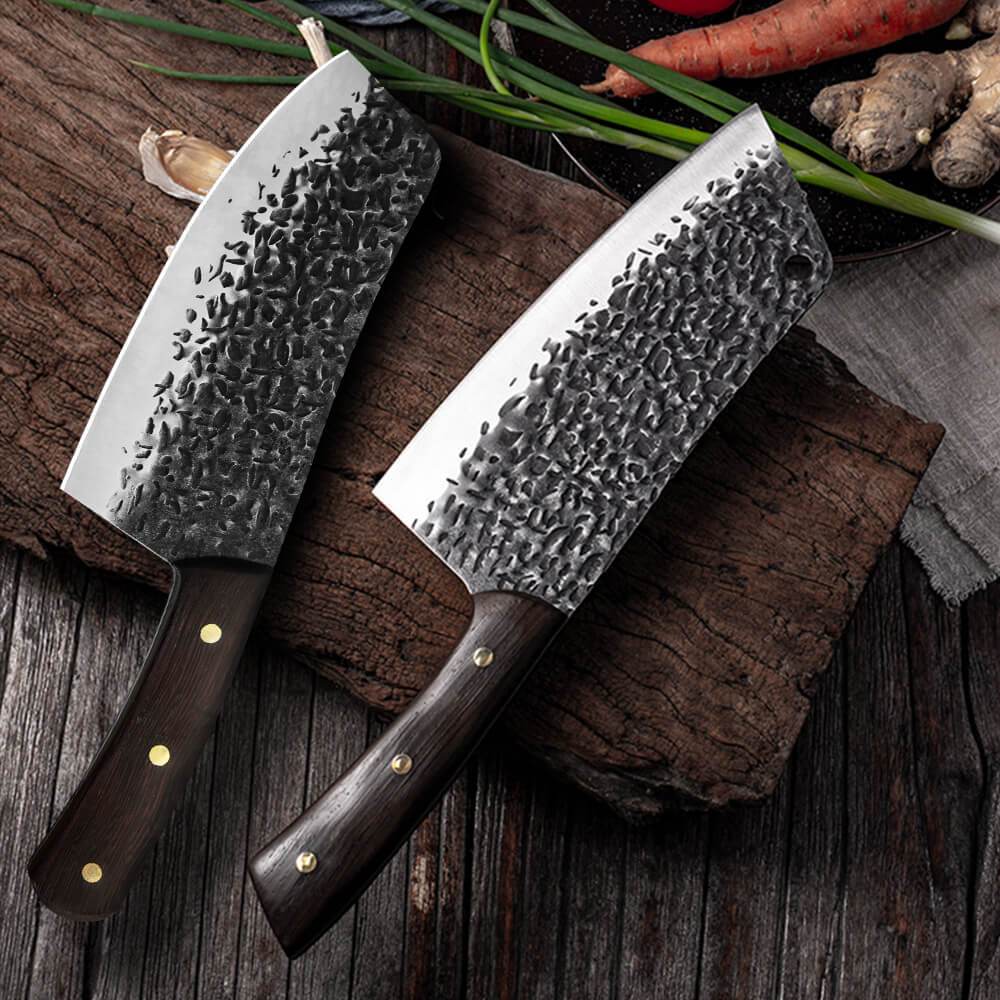 This is a 100% handmade meat cleaver knife. It is made of high-carbon stainless steel Clad Steel blade. It needs to go through 16 processes, 168 hours of delicately crafted. After this, it becomes a high-quality, nice-looking cleaver knife in your hand.
If uses correctly. You can use the cleaver knife for over 15 years. Unique forging traces, durable v-sharped cutting edge, very sharp cutting meat freely.
The blade has been polished carefully, super anti-rust and corrosion, hand made edge sharpness last long time.
The cleaver knife back thickens to polish, does not hurt the hand, takes into the touch and the texture simultaneously.
It is waterproof, antibacterial, heat resistant and non-slip. The plum rivets enhance the feel.
This high-carbon Japanese steel cleaver knife has extreme sharpness of the stainless steel blade.
After cooling and heat treatment, The hardness of this cleaver knife reaches up to 56±2HRC which is sharp enough for fish, meat, vegetables, fruits, and any other food items. Now your food preparation process simplifies and made efficient with the proper use of this 7-inch cleaver knife.
Use this 6.5-inch cleaver knife in a proper way will improve your cooking efficiency.
This handmade meat cleaver knife equipped with an ergonomic pakkawood handle allows a good fit in the hand.
Furthermore, it reduces fatigue, finger aches, or numbness after using it for a long time.
Pros:
Hand-hammered unique pattern
Great grip
Light-weight
Sharp
Well-balance
Cons:
No leather sheath include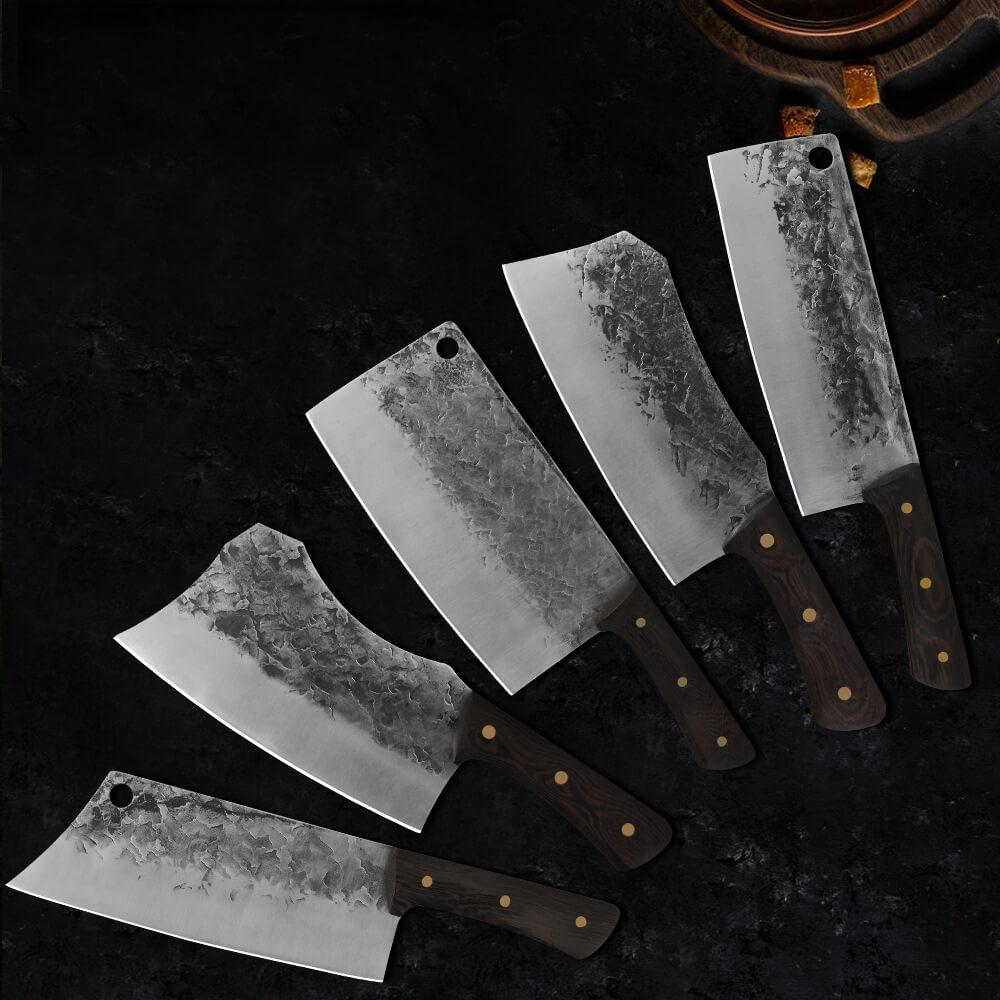 If you are looking for a butcher cleaver knife set, then you can see this choice.
The manufacturing of this cleaver knife set is done from pure hand-forging, the implementation of the quenching process makes the blade very sharp and well-built.
The butcher cleaver knife is made of 5CR15 steel, which makes it tougher than ordinary 304 stainless steel after multiple forged and folded procedures. Thus, the knife features outstanding strength and durability. you don't need to worry about the harmful effects of pollution and scratches.
There is a polished wooden handle. It feels comfortable in your hands and found to be non-slip. This handle is dedicated to saving your manual efforts while cutting any food items.
The solid wood handles equipped with a reinforced rivet which is not easy to deform. The golden mosaic pin makes it looks beautiful.
The cleaver knife set can cuts easily through large pieces of food and is perfect for bone cutting, chopping, and cleaving.
The thick blade makes anything you cut feel like it was made of warm butter.
Pros:
Stunning look
A complete set
Ideal for heavy-duty tasks
Solid professional build
Cons:
Conclusion
A Serbian chef knife is more and more popular for pro professional chefs, as they are strong, sharp, extremely durable, and versatile. The edge is sharp and can keep the edge for long and can withstand much sharpening without any damage. Whether you are in a kitchen for household cutting or out for a picnic, this multi-functional knife is all you need. Hope this best Serbian chef knife list can help you to find the right knife for you.