Though we have more ingredients to add to dishes, vegetables are the most commonly used ingredients in cooking. We indeed need the best knife to cut veggies a lot easier and efficiently, whether you are a pro chef working in a 5-star restaurant or a home chef chopping up vegetables for a snack for the kids at home. There are several different knife types to consider. To help you find the best knife for chopping vegetables, we need to tell you what characteristics should the proper vegetable knife have first.
The Basic Characteristics of a Best Vegetable Knife
1. The Knife Should Have a Wide Blade
The vegetables vary in size, just think about the difference between herbs and a big pumpkin. Thus, you need a wider blade kitchen knife to cut through your larger food items with one quick swipe, rather than getting your blade stuck halfway through. What's more, a wider blade is easier to scoop up veggie strips and pieces into the pot or bowl.
2. The Blade Should Be High-Quality
The best knife for chopping veggies is a good investment for your kitchen, you need a high-quality vegetable knife to gets the job done. In terms of blade materials, you'd better pay attention to durable carbon steel or forged steel, these steel can be sharper and stay last longer.
3. The Grip and Weight Should Be Comfortable
When you process vegetables into various shapes and densities, a comfortable grip is vital for quickly cut. If the knife is too clumsy or heavy, it may easier to feel fatigued, especially after a long time cutting. Furthermore, an unsuitable knife may cause accidents, So, be careful to find a knife that fits your hand and strength.
After we know what a good vegetable knife should be, we need to figure out what is the best type of knife for slicing, dicing, and mincing fresh vegetables and herbs.
Types of Knives to Cut Vegetables
There are several kinds of knives that meet the basic characteristics of the best vegetable knives, Let's see what is these knives.
1. Nakiri
Nakiri is a Japanese vegetable knife, it is an ideal knife for cutting vegetables. It has a straight, rectangular, wide blade that allows you to process larger vegetables like pumpkin. The blade is thinner for a thinner and more accurate slice. If you like vegetable dishes and salad much, if you need to process many tasks of vegetable cutting, a Nakiri is the wisest choice.
Our Pick of Chef's Gyuto
Many reviewers think that this 7-inch forged steel Damascus Nakiri knife from Letcase is well worth the splurge. On one hand, the blade is durable and won't rust, corrode, or become discolored over time as it is made of premium Japanese VG10 steel.
In another hand, This nice-looking knife boasts a stable G10 handle with a full tang to offer perfect stability and balance. Its square cut-off design makes it perfect for quick chopping on vegetables.
Finally, its affordable price makes it a winner all around.
If you want more Nakiri knife, check at Best Nakiri Knife of 2021.
2. Chef Knife
As we all know, a chef knife is a versatile knife because it can handle most cutting tasks, cutting vegetables included. Though it is not designed for vegetables, it will still finish the job well, you just will lose a bit of flexibility.
It has a hefty heel, which makes it helpful for processing hearty veggies like winter squash. In addition, it has a curved cutting edge, also called the "belly", with a thick heel and pointed tip, which makes it perfect for handling herbs or a large amount of garlic or onion with rock chop motion.
If you don't prone to invest in a complete knife set, if you want a versatile knife to handle meat and vegetables at the same time, then, chef's knife is your good choice.
Our Pick of Chef's Gyuto

When you want to use your chef knife to cut veggies in a snap, this high-quality 8-inch Damascus chef knife with sheath hits all the right marks.
When you want to use your chef knife to cut veggies in a snap, this high-quality 8-inch Damascus chef knife with sheath hits all the right marks.
The blade is made from VG10 steel, which is rust-proof and durable to last a long time.
This Letcase chef knife has a relatively narrow blade, which makes it more flexible to handle vegetables and cut thinner slices. Both novices and experienced chefs are favored for the overall quality of this option.
If you want more chef knife for cutting vegetables, check at The 10 best Damascus chef knife of 2021.
3. Gyuto Knife
Another popular knife for cutting veggies is the Gyuto knife, a Japanese-style chef's knife. It has a thinner edge compared to the western chef's knife, and it isn't too large, so, it is also good for chopping vegetables, including squash and potatoes.
If you like Japanese-style knives, then, you can choose Gyuto for your kitchen.
Our Pick of Chef's Gyuto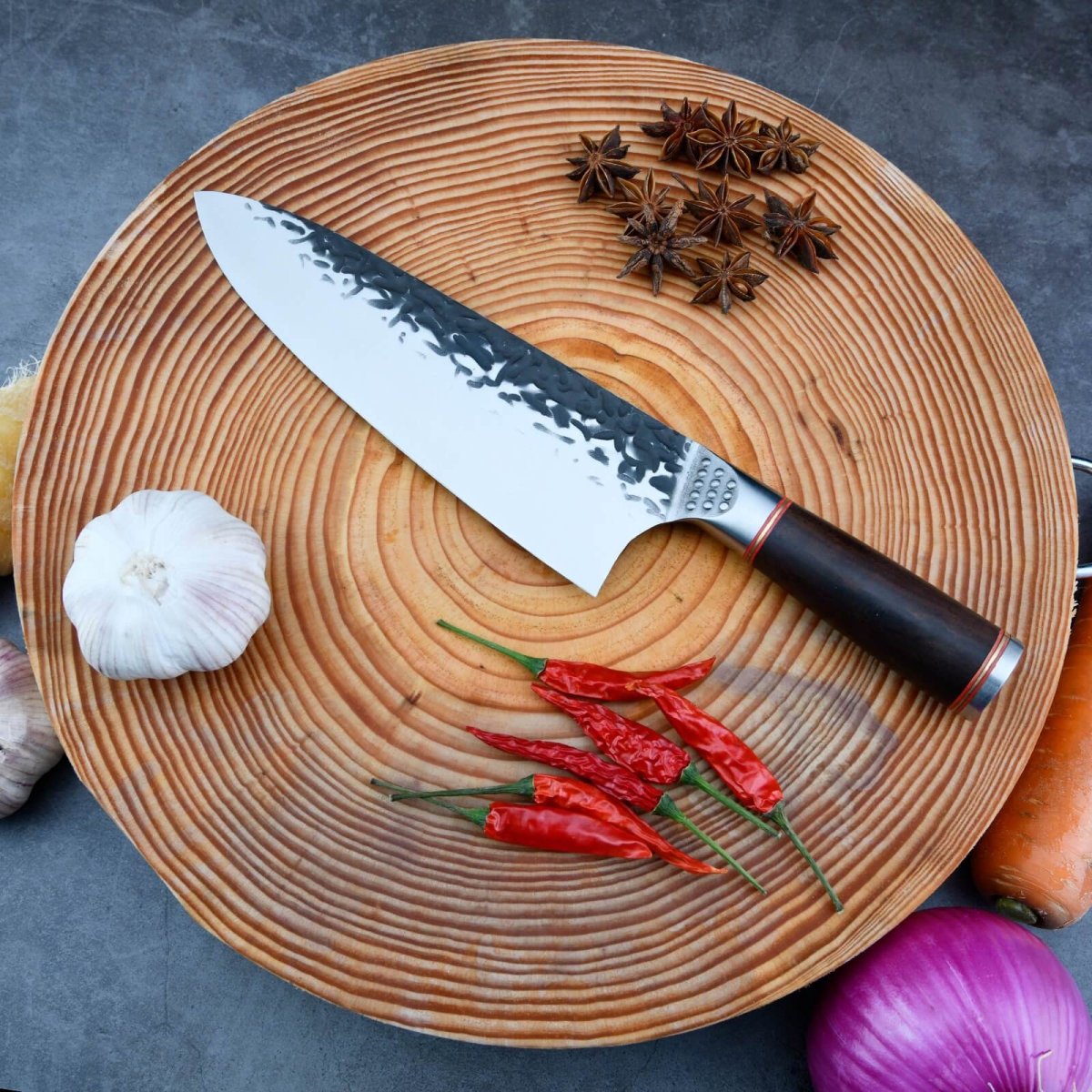 This 8″ hand forged Gyuto chef knife is highly rust-resistant and highly sharp. It has a double-beveled cutting edge and a thin blade for a precision cut.
4. Santoku Knife
Santoku knife is also a multi-purpose knife like chef's knife, which is popular in Japan. Compared with a chef knife, it is smaller and lighter and features a blade with a rounded tip rather than a pointed tip, makes it great for slicing, dicing, and mincing a variety of vegetables, from cucumbers and zucchini to garlic and herbs. It also has a slight belly to allow for the rocking motion while slicing strips of vegetables.
Our pick of Santoku
When it comes to the Santoku knife, we recommend this Japanese Damascus Santoku Knife which has a scalloped edge to prevent your food items from sticking on the blade.
The blade is made of hammered Damascus steel VG10 Japanese Super Steel core, which provides an incredibly sharp edge but also long edge retention. It is hand sharpened with the three-step Honbazuke method to ensure its high sharpness. The full-tang handle is made from G10 materials to offer cleanliness and stability, ensuring that the food is healthy and clean.
Vegetable Cutting Knife FAQs
1. What are the cutting techniques for vegetables?
To level up the cooking skills, you have to learn some cutting techniques for vegetables.
Brunoise
With this technique, you can cut vegetables into small cubes to decorate your dishes, usually used in hard items like carrots, cucumbers, onions.
Chiffonade
Chiffonade is a French cooking technique, mainly used to finely cut herbs or leafy green vegetables.
Julienne
With this skill, you can cut food into thin pieces similar to a match stick.
Slice
The most common cutting technique is to slice ingredients.
Mincing
It is usually used for mincing garlic.
2. What vegetable cutting knife do chefs recommend?
The chefs think the most professional vegetable cutting knife is Nakiri. You can consider adding a Nakiri knife to your chef's collection.
3. What is the best knife for cutting tomatoes?
Ideally, the sharper the blade, the better. As we mentioned above, chef knives, Nakiri knives, Gyuto knives, and santoku knives are suitable for cutting tomatoes. However, a serrated knife can also cut through a tomato with ease.
4. What knife do I need to cut vegetables?
It depends on what cutting tasks you usually do. If you cut and slice fish often, a santoku is better because it works well with fish, vegetables, and fruits.
If you don't need to cut too much fish, just need to process meat and vegetables, a chef knife or Gyuto knife is good for you.
If you handle vegetables often, you'd better own a Nakiri to help you.
5. How to speed chop vegetables?
To be honest, fast speeding chopping vegetables need time to practice. Here're some tips you can notice:
First, hold the knife correctly to ensure more control over the blade.
Secondly, make sure you have a flat surface to avoid slipping during cutting. You can cut vegetables in half to get a hard stationary surface.
Thirdly, whatever you are cutting, ensure that you hold it with claw-like fingers to secure the vegetable.
Fourthly, move the vegetables towards your kitchen knife, keeping your knuckles over your fingers for safety.
Conclusion
There's no vegetable cutting knife out there that is objectively the best as everyone's tastes and preferences are different.
This article can help you narrow things down and figure out which one will suit your needs the best.
A good vegetable knife will help you make healthier and attractive vegetable meals, just to choose one and get started cutting, and practice it. Your cutting skills will improve during the process, hope you can master them to help prepare delicious meals for the people you care about.